Realizing a new form of education in the COVID-19 pandemic.
Enables both lectures, experiments, and their evaluation in virtual space.
The VR lecture system is a new online education place using 3D avatars and objects, and it is a system that allows you to learn in a pseudo-face-to-face manner using avatars in a virtual space without being in the physical classroom.
VR LECTURE SYSTEM
[ CYPE VRA 001 ]
Edit / upload the data of the VR lecture
VR MOVIE PRODUCTION SYSTEM
LECTURES WILL BE GIVEN WITH THE EQUIPMENT FOR VR RECORDING, AND THE DATA WILL BE
EDITED WITH OUR SOFTWARE.
■ functions
Use of presentation slides and pointers
Body tracking
Selectable avatars, objects, background 3D models, etc.
SAVE THE RECORDED VR LECTURE. A 1-MINUTE 2D VIDEO FOR SEARCH IS AUTOMATICALLY GENERATED.
YOU CAN UPLOAD THE SAVED DATA TO THE VR LECTURE MANAGEMENT SERVER.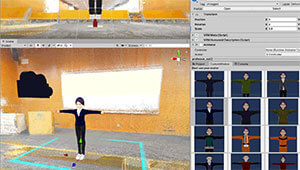 View and download VR lectures
VR MOVIE PRODUCTION VIEWER
YOU CAN VIEW VR LECTURES BY INSTALLING OUR VR MOVIE VIEWER RUNNING ON A STANDALONE VR DEVICE.
■ viewing functions
View the 1 minute introduction video, then select the VR lecture and download it.
VR lectures can be played, fast-forwarded, rewound, and so on.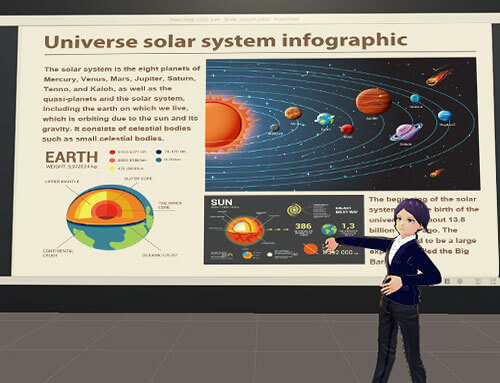 Manage VR lectures and audience permissions
YOU CAN EDIT THE DESCRIPTIOS OF THE VR LECTURES AND UPLOAD THE CONTENT ON THIS MANAGEMENT SYSTEM.
■ Management functions
Management of user accounts and lecture contents
Search for content by keywords
Student evaluation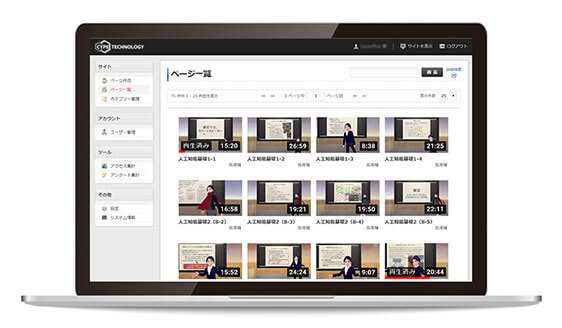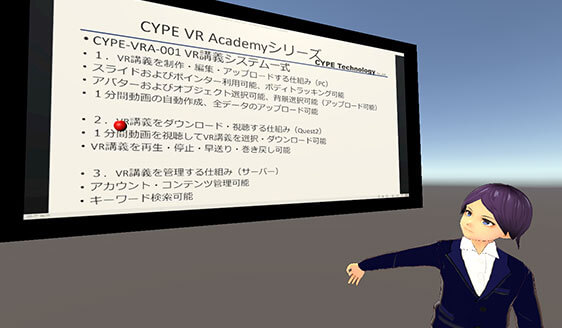 Here are some examples of using the VR lecture system.
VR events held on Virtual Nagoya University
Training such as experiments, practices and presentations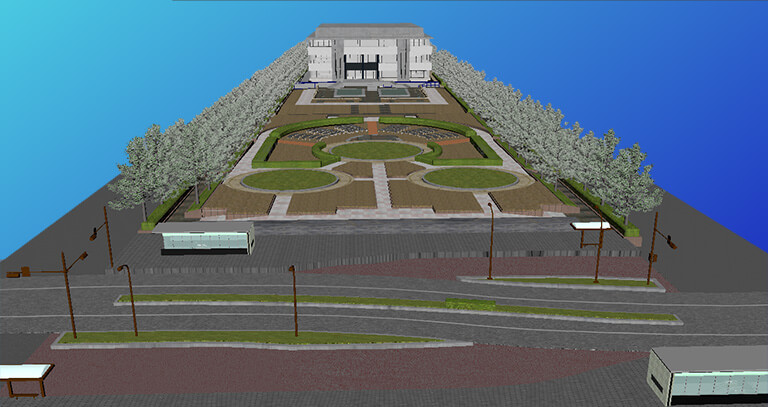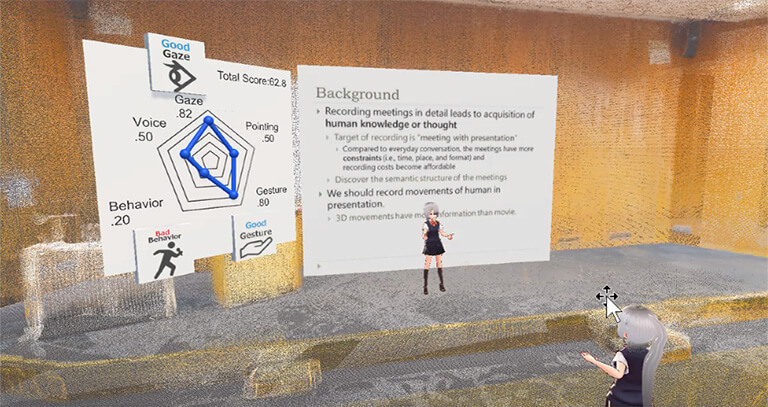 CYPE VRA 001
-VR LECTURE SYSTEM PACKAGE-
1. Ability to create, edit and upload VR lectures
2. Function to download and view VR lectures
3. Ability to manage VR lectures and limit audience
Devices
[For production] VR headset Oculus Quest2 / 10 units - VR headset Valve Index / 3 units - PC, base station, VR tracker / 3 sets
Software
[For production] Software VRContentCreator installed
- [For viewing] Software VRContentViewer installed
Cloud server usage fee
CYPECloudService for 1 year
VR lecture system additional option
CYPE VRA 002
(For teachers)
Student learning situation analysis function
Viewer's emotion / interest estimation function
CYPE VRA 003
(For students)
Interaction function with teacher avatar
Voice and chat interaction
Voice quality conversion function that can change the voice of the avatar